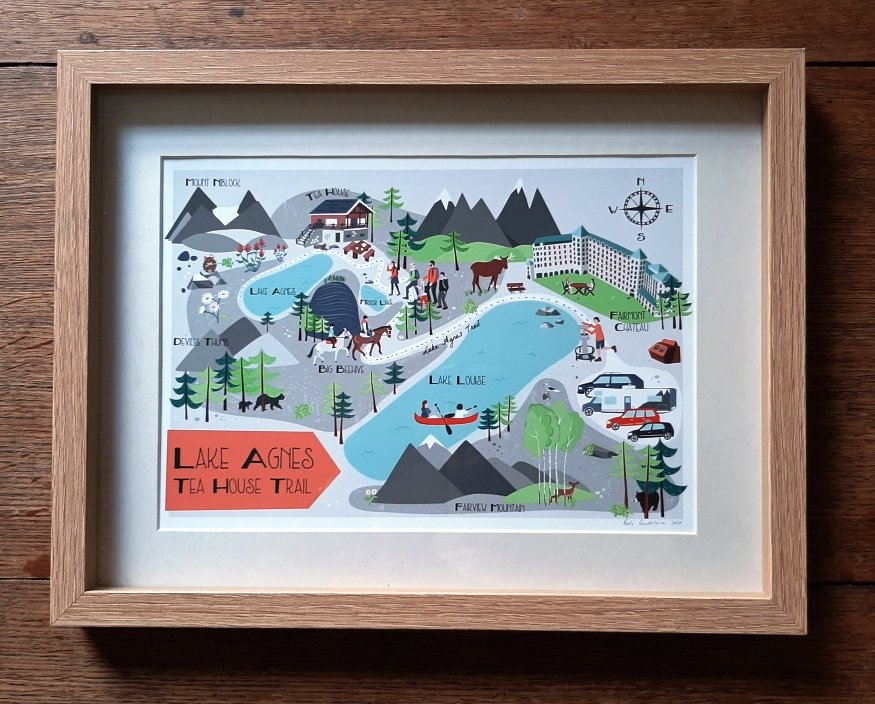 Lake Agnes Tea House Hiking Map
This is one of my most recent personal projects, an illustrated map showing the Lake Agnes Tea House Trail near Lake Louise in the beautiful Canadian Rockies.
We visited Western Canada for three weeks last summer travelling north from Calgary to Jasper via Banff in a 31ft camper van. The scenery was absolutely stunning. I've never been anywhere like it. We saw moose, Elk, deer, bears and bear cubs and lots of small furry animals and I learnt how to drive a 31ft vehicle!!
I drew this map as a surprise anniversary gift for my husband. It's 22 years since our eyes first met across the UCL Dept.of Geomatic Engineering and the rest is history. It's also 18 years since we got married so March is a big month for us.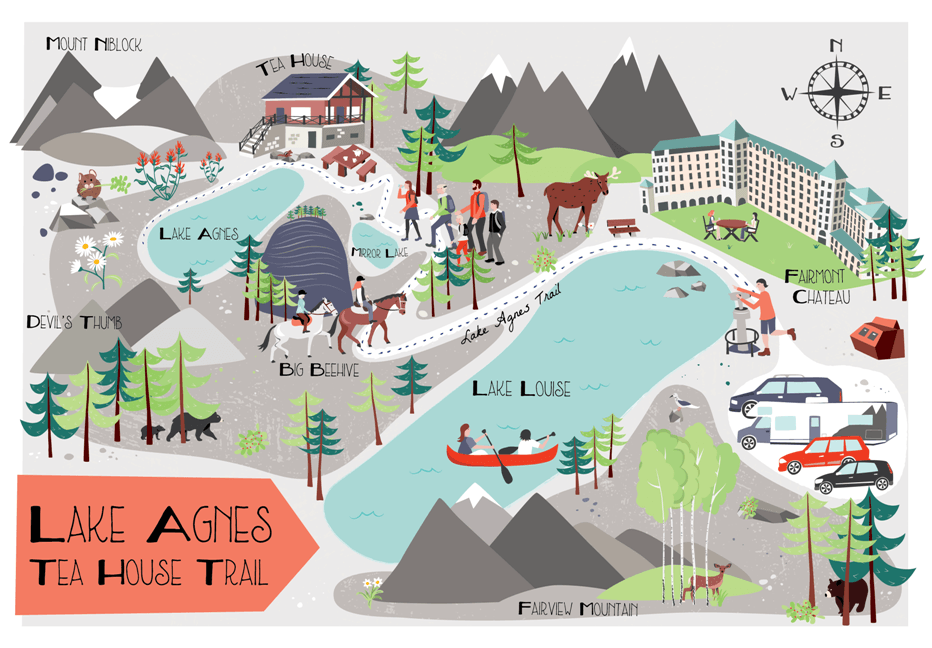 I chose this area because it was one of my favourite days of the trip – the day we spent doing the hike up from Lake Louise to the Lake Agnes Tea House. Despite the big crowds at the Fairmont Chateau, the crowds soon thin out as you start to climb and the air is so clear and fresh. We didn't see all the animals I featured in the illustration on that particular day but we did see them all throughout our time in the Rockies. I'd like to give a special mention to the Pika in the top right of the map. We saw and heard lots of these lovely little animals running around with greenery between their teeth in between the rocks above Lake Agnes. Apparently, they place it on rocks to dry out before lining their nest with it. They are really, cute and look a bit like a large, fat hamster. They also make a surprisingly loud squeaking noise.
I wanted to design something that is very personal to us as a family. I've managed to fit in lots of detail in from that particular days hiking from the horse-riders we saw on the trail to many of the plants we saw. You can also see the five of us in the map, just getting close to the Tea House and our huge camper van parked up in the car park.
And here we are on the actual day of the hike beyond the Tea House with Lake Agnes behind us…happy days.